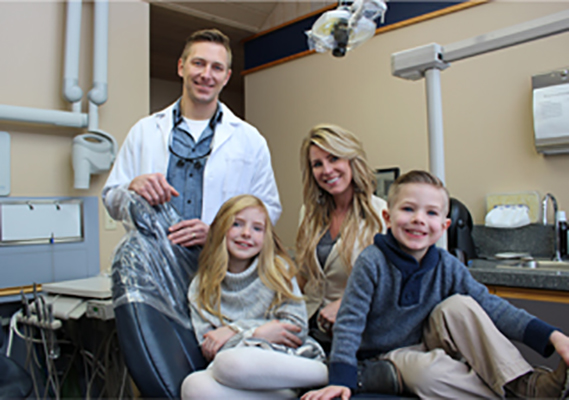 Welcome to Your Dentist in Coeur d'Alene
MEET DR. JUSTIN RADER
Dentist in Coeur d'Alene
Background and Credentials
Dr. Justin Rader, D.D.S. has always been interested in working with others and creating a comfortable environment for people to visit.
Justin's stepfather, Jack Fullwiler D.D.S., has shown him what it is to be a successful and well-respected dentist in the community. Justin found his niche while shadowing Dr. Jack and finding it great to interact with others and play an important part with combining patient needs with his developed skills and mentorship.
Justin was raised in Coeur d'Alene, ID and graduated from Coeur d'Alene High School in 1995. He attended the University of Idaho and Boise State University to obtain a B.S. in Biology with a ROTC Commission in 2000.
Justin spent five years in the United States Army and served in Iraq in 2004 to 2005 as a counter-intel and interrogation officer. He separated from active duty to pursue a family life with his lovely wife.
Justin spent a year at the Panhandle Health District as an Environmental Health specialist more commonly known as a Health Inspector.
Dr. Rader is a graduate of the University of the Pacific Arthur A. Dugoni School of Dentistry in San Francisco, CA, 2010. He immediately started working with his step-father.
A Sincere Passion for Dentistry
Dr. Rader became the Dental Director for the local Community Health Center where he was employed full time from April 2011 to July 2014. Justin continued to work part time with Dr. Fullwiler and received great dental mentorship.
Dr. Rader formerly worked part time at the Community Health Center doing hospital dentistry for the developmentally disabled and high anxiety patients. He was the Idaho Panhandle Dental Society President 2012-2013 and received the Idaho State Component President Award for his duties during that time.
Dr Rader also volunteers as a board member of the Idaho Dental Foundation and Idaho Oral Health Alliance.
June of 2015, Justin was nominated and accepted into the International College of Dentists, ICD, due to his state and local leadership and participation.
Dr. Rader purchased his step-father's practice in August 2014 that he aptly renamed to Generations Dental to honor the family history in the dental world and he works with all generations of patients.
Dr. Rader has a great-grandfather, Dr. John Butler, that began dentistry in 1917 in Pennsylvania, followed by his step-grandfather, Dr. Dick Fullwiler, in 1951 and then step-father, Dr. Jack Fullwiler in 1980 in Coeur d Alene, Idaho.
While managing his practice, Dr. Rader is a member of the Idaho Army National Guard as a dentist. He also enjoys volunteering at many community events to support veterans and a variety of age groups with the local Panhandle Health District and Community Health Center.
Dr. Rader is a member of the local VFW post 889 in Coeur d Alene.Member of:
American Dental Association
Idaho State Dental Association
Panhandle Dental Society – Received Idaho State Component President Award 2012-2013
Spokane District Dental Society
International College of Dentists, ICD
Idaho Dental Foundation Board Member
Idaho Oral Health Alliance Board Member
Idaho Army National Guard, Medical Detachment
Veteran's of Foreign Wars Post 889
In His Free Time
Justin has a beautiful wife, Nicole Rader, daughter, son and their dog. He enjoys spending time with them and volunteering with their team activities and events. They enjoy spending time at the variety of lakes in the summer and skiing in the winter. Dr. Rader enjoys bass fishing and working on his golf game.